Juktån,


The river Juktån! A true fly fishing Paradise. This river is so special that they organized here in 2001 as in 2005 the world championships flyfishing. The river has a very good trout- and grayling stock. The graylings are presented in very large numbers, and the average size is about 30 centimeters. But every season we catch several 50+'s and the record is set in the season 2013 with a grayling of even 63 centimeters! Moreover the Juktån is known for its large trouts.

Because the waterlevel from the Juktån is regulated, you can fish here when fishing in the other Lapland rivers is difficult because of the high water level. This makes the juktån especially at the beginning of the season, a very popular fishing river. Despite this fact and the easy accessibility, the fishing pressure at the Juktån is not too large. A portion of the lower reaches of the river (3km) is fly fishing zone. Here you will find some very rich fishing pools such as Storhälla, Skravelforsen and Tjompforsen. In short, the Juktån is a river that will surely not disappoint the angler.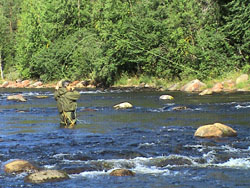 Book your flyfishing package in the months of June, July and August and we will visit this flyfishing paradise certainly some days. Wouldn't it be great that you, just as the fisherman on the accompanying photo, stand with a curved rod in the flow of this beautiful river.