Hej Hej,


Would you like to escape from the daily hustle and stress? Away from the hectic world around you. To go somewhere you do not need a clock, and where you can hear the silence. Where the air is pure and where you can still smell the scent of the seasons. Here with us in Swedish Lapland, one of the last wildernesses in Europe, this all is possible.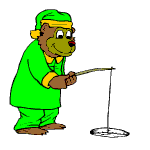 Fishing is THE activity of the local population. It's therefore that you will find most information about fishing on this site. We live near the magnificent Vindelälv, one of the four untamed rivers in Sweden. Here you can, with a little luck, hooke a salmon. Within our community you will find two more major rivers to fish; the Juktån, famous for its fine trout and grayling, and the Gargån, a typical grayling river.

Are you a pike hunter? Then you are just at the right place because there is a large lake in front of our house where it really is full of (big) pike !!
Look at the package "pike" for more information.

The nature lovers among us are also on the right place. Here you can hike for days without to meet someone. Maybe you will spot a moose or a bear! Furthermore, gathering berries or mushrooms is one of the activities that make you forget the time!
In short: Vi Ses !!